The History Puzzle: How We Know What We Know About the Past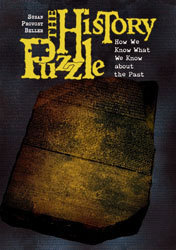 History is an amazing puzzle, an attempt to piece together the story of the past when not all the pieces are available. Whenever a new piece is found, whether in treasure troves of old letters and papers, or in wondrous finds in archaeological digs on land and under water, historians attempt to revise the story. This process of "making history" is fascinating detective work as historians unravel the most detailed and accurate picture of the past.

Here is a look at the quest for history through the years, including the stories of the Edmund Fitzgerald, Martin's Hundred, the Great Wall of China, Mesa Verde, the Vikings at L'Anse aux Meadows, the myth and reality of King Arthur, Herculaneum and Pompeii, Noah's Ark, the mysteries of the Stone Age, the search for Homer's Troy, the Rosetta Stone, Lucy, and more. It is an adventure and a treasure hunt combined. Perhaps one day you will be the one to find a missing piece of information that has puzzled historians for centuries.

From School Library Journal
Grade 5-8 Beller looks at more than 20 historical sites or archaeological excavations, from the World Trade Center to Olduvai Gorge, from the wreck of the Edmund Fitzgerald in 1975 to Noah's Ark, in order to present the varying interpretations of history and how they have been colored by tradition, socioeconomic factors, and religious beliefs. Objectively written chapters are brief, leaving readers longing for more detail and more depth and this may be the greatest strength of the book. Teachers can use this text to introduce social studies content in research formats. Frequent, well-placed sepia-toned photographs and period reproductions serve to enhance the text, and the source notes, further reading, and list of Web sites give students an ample list of resources for further study. Ann Welton, Grant Elementary School, Tacoma, WA
Copyright © Reed Business Information, a division of Reed Elsevier Inc. All rights reserved.