Woman of Independence: The Life of Abigail Adams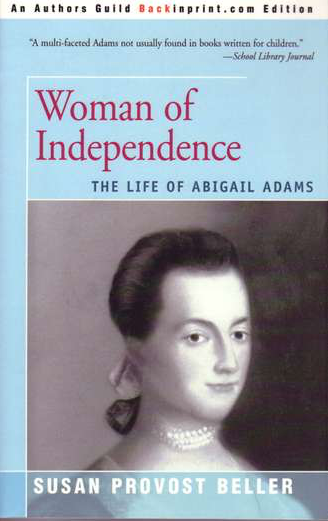 It is probably terrible for me to admit this, but when I was learning about history in elementary school, I found it kind of boring--all those names and dates and treaties and battles just sort of jumbled themselves up in my head.

Because I grew up in New England, the history I heard most often was of the Revolutionary War, and it was in reading of Abigail Adams that I finally decided that history might not be as dull and dry as I had thought it! Abigail fascinated me! Here was a woman who is remembered mostly because she was the wife of one president and the mother of another--a role that would not occur again until Barbara Bush watched her son become president.

What was fascinating to me was not who her husband and son were, however, but how amazing she was herself. Left alone for years at a time, Abigail kept house, tutored her children, ran the family farm (better than her husband had), and wrote thousands of letters. Her letters give a better and more complete picture of life in America during the Revolutionary War than any other source of information.

Abigail Adams remains one of my favorite people from history and the chance to write her story was a dream come true!
School Library Journal
"Here readers will encounter a multifaceted Adams not usually found in books written for children. Beller's emphasis is on the strong, independent, visionary woman whose role in American history was much more than simply the wife of one president and mother of another." Reviewer: Valerie Childress, September 1992.